Now that the holiday is over, it's time to get down to business and look for money-making opportunities.
I expect next week to be filled with action, as we are heading into the final month of 2020.
Traders will be looking to wrap up their trading for the year on a high note and earn extra cash for the holiday season.
And if you missed it, last week I closed out my RUT trade for nearly a 50% profit!*
For me, I am going to keep focused on what has been working.*
That means being highly selective and focusing on trading only my favorite setups
By now, you know that I'm an options seller and I focus on Fractal Energy, and there are some very interesting trades that are setting up for the upcoming week.
With the way some stocks could trade around the holidays, I think it's important to focus on key levels they are trading at right now.
Now, let me show you what I've spotted for key trading levels in BBY, AAPL, PFE.
Let's start and take a look at how Best Buy and how a strong holiday season could push this stock to new highs.
Combine this with continued work from home orders that are put into place, sales could jump as consumers scramble to purchase new gaming equipment for their families and work from home
Now, I am not a fundamental trader, but having an idea of what the underlying market is doing is always important for a trader.
From a technical point of view…
BBY is currently trading in the lower half of its Bollinger Band, with the lower band acting as support since the middle of the summer.
Over the last 6 months, this lower Bollinger Band has acted as support for this stock as it traded higher with the most recent support held at the end of Oct and the beginning of Nov.
Additionally, Fractal Energy is continuing to rise as the stock trades sideways within its upper and lower Bollinger band ranges over the last two months.
For a bullish trade to the upside, I think it makes sense to keep an eye on the lower Bollinger Band and how the Fractals release their energy around that same point in time.
One way to play this would be to utilize a bullish put spread or sell the puts outright.
I'll keep an eye on this one and see what it does around the $110 price level
APPLE INC (AAPL)
Apple is another company where the holiday season could have a huge impact on the company's profitability.  
Even though Black Friday has seen record-setting lows for sales numbers in traditional brick and mortar store locations, online sales spiked year-over-year by over 50%.
This is huge for many online retailers, especially in the technology space, as they can see a huge increase in the number of device sales, computers, game consoles, TVs, and more.
Aside from the recent poor iPhone 12 release, Apple is hoping phone sales will end up to be more than just a puff of smoke this year.  So far, it's too early to tell, but this is the time of year Apple really hits its stride.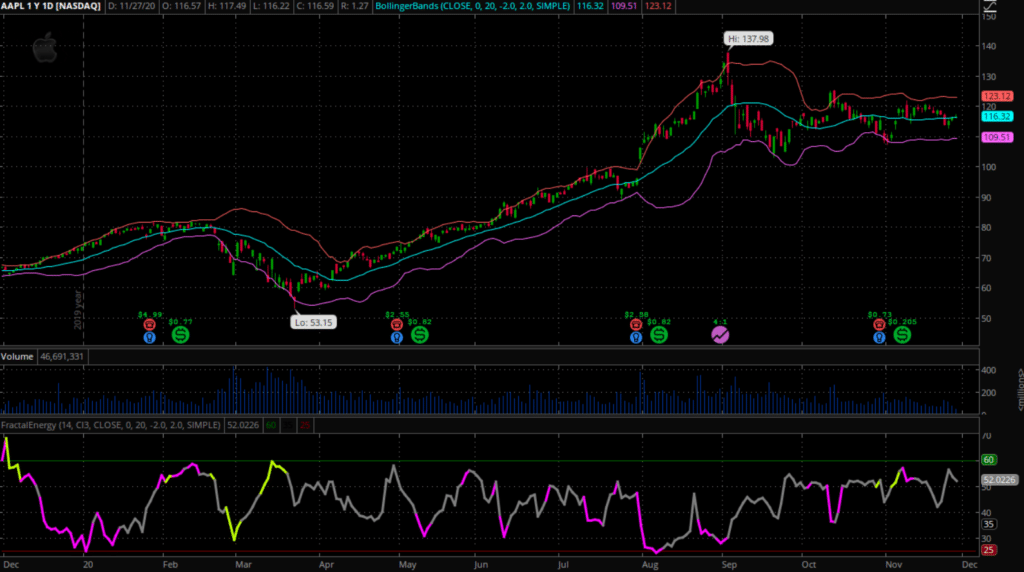 From a technical standpoint, AAPL has been consolidating recently, and there is no clear direction yet.  Even though AAPL is off of its highs, it's forming a consolidation pattern, and in my opinion, this could be the build up before the next run to all-time highs.
The Bollinger Bands are another technical indicator I want to keep my eye on, as they have acted as support since the middle of the summer.  Most recently, the Bollinger Bands held the price in September, the end of October, and early November.
Another key indicator to watch is the increasing Fractal Energy on AAPL.  Interestingly, buyers(or sellers) are starting to come back into the stock, and the internal potential energy of the stock is climbing.  
Combining these two indicators is telling me that a significant move could be in the near future.  I'll want to keep an eye on both the Bollinger Band support levels and the Fractal Energy over the next week.
If the price action plays out, I'll be looking to trade a bull put spread or sell the puts outright.
PFIZER INC (PFE)
Outside of the tech play, Pfizer (PFE) is forming a very interesting chart pattern.
Fundamentally, PFE is one of many companies that are racing for a COVID vaccine but are faced with a chilly complication.  You see, this COVID vaccine needs to be stored in ultra-cold temperatures of -70 degrees celsius (approx -100 degrees Fahrenheit).  And these specialized freezers cost around $20,000 each and are rarely found outside of medical facilities.  
Talk about one chilly problem they need to overcome!  
But, recent research and development has lead to longer term storage of the vaccine being possible, with competitors such as Moderna (MRNA) currently able to store the vaccine for up to 30 days at refrigerator temperatures.  
Of course, fundamentals are always fun to read about, but I don't usually trade around them.  So I need to turn to the technicals and see what the charts are telling me.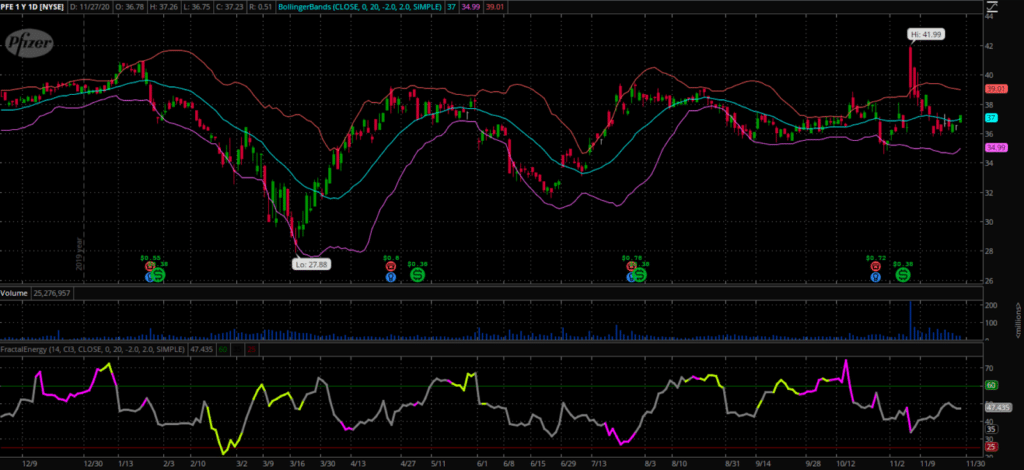 At this time, PFE is trading slightly below or at its middle Bollinger Band line. 
This middle line is an important area to watch, as a break higher could mean the stock is trending upwards, and a break lower could mean the stock trades down to its lower Bollinger Band area.
Now, this is not the only indicator to keep on your radar, because Fractal Energy is showing something interesting as well.
Fractal Energy is the measure of the stock's internal energy, or the ability to trend higher or lower.  In this case, the Fractals are gradually climbing, telling me the internal energy is becoming more charged.
This means it's key to watch PFE as it begins to show signs of a new higher trend.  Combine this with a fully charged, or charging Fractal Energy and you could see PFE trading at new highs.
But of course, this stock is just going to sit on my watchlist for right now and I may or may not be taking this trade.  I'll keep an eye on this one to see what it does around the $36-$38 price range.
Wrapping Up
There are plenty of Fractal Energy Trades out there, and I want to teach you how to find them.
That's why I created Energy Trader, so you can learn how I identify my scalable and reliable pattern to attack the market.
Now, this is just my watchlist for the week ahead
And if my pattern sets up perfectly, I will be taking these trades.
But only my subscribers will receive exclusive access to this information.
To stay up to date with my weekly research and receive actionable trade alerts when I place my trades, sign up for my Energy Trader subscription today.
Remember, once I decide to trade these stocks I will not be sending this information out to anyone other than the subscribers of Energy Trader
So before missing your chance at learning how to trade one of these stocks utilizing my special indicators – sign up here before it's too late.
 *Results presented are not typical and may vary from person to person. Please see our full disclaimer here: ragingbull.com/disclaimer