At this point, I probably sound like a broken record.
But another week has passed and Fractal Energy has yet to let me down.
And while many traders are getting caught in this back and forth… I am profiting off the sideways action in the markets.
By leveraging the power of options I can generate income instead of gambling in stocks each week.
If you happened to miss this email … I sent out a notice that TSLA was on my radar and I plan to sell a put spread 
In just about a week I was able to pull down nearly 100% returns on this trade*
I know that sounds easy… but but trading is difficult and I've put in countless hours to learn the markets
And I've stepped in all of the traps learning how to be a successful trader throughout the years…
But it doesn't have to be this way for you…
Now if you're ready to learn how you can find your edge in the markets and how fractals can change your trading forever
As a trader, spending hours going through stock charts and looking for patterns is just part of the day in the life of a professional trader.
To cut down the work that I have to do every day, I only focus on stocks that meet qualifications set by the Fractal Energy Indicator.
When looking to understand what price action is doing you need to reference information other than a basic stock chart to get a true edge in the markets.
And by having an indicator such as the Fractal Energy indicator you can determine stocks that are charged to run or exhausted and ready to stall out.
But first – What are fractals?
The power of fractals allows me to determine the strength of trends and how much "life" is  remaining in a stock's movement.  
There are 2 main components of Fractal Energy:
Markets Fractal Pattern

The Internal Energy 
By combining those two different components you create a single indicator that is able to successfully determine the strength or weakness of a trend on any stock.
The TSLA Trade
So how did Fractal Energy look when it came to the TSLA trade?
Here's a chart that I was looking at right as I was placing my order to sell a credit put spread last week.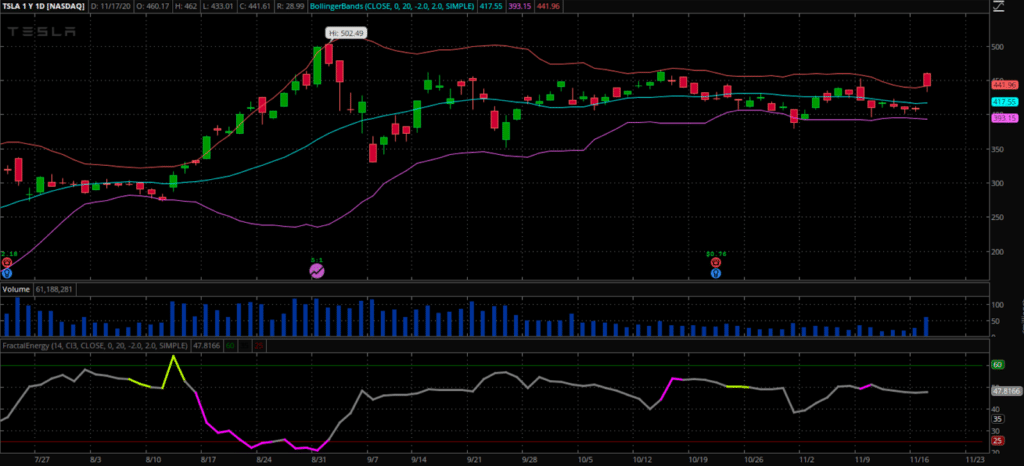 Source: Thinkorswim
And once I saw this trade setting up I knew I needed to get involved in this price action.
Now as a stock trader, you might be only do one of two trades… and that's go long or short the stock
But as an options trader, you can actually profit when a stock goes in 3 directions… in your direction, against your direction, and sideways.
Yes… you read that right… as a credit trader you can make money going up, down, or sideways a stock
So as I was looking at a charged Fractal Energy and a stock trading at or near the Bollinger Bands and huge levels of support, only two things could happen….TSLA could go long or sideways
And that's exactly what happened!
I was able to pull down and profit nearly 100% returns on a stock that went sideways!
Talk about a nearly perfect trading strategy… as you could make money even if the stock didn't even move!
Credit Spreads For The Win
If you don't want to use this as a trading indicator… There is one thing that I can highly recommend, and that's using Fractals as a market sentiment indicator.  
Fractals are the inner workings of the markets, from what the whale investors are thinking on any given day to the market specialists on the floor of the exchanges.
Which is exactly why I based my credit spread trading strategy together with Fractal Energy!  
I needed an edge in the markets that told me when to sell credit spreads in order to generate income for my trading business.
My go-to trading strategy is the credit put spread or a  naked put in order to get paid upfront to own a stock at a discount!
The Credit Put Spread is a neutral to bullish options trading strategy.
It aims to capitalize on both sideways or upward price movement of the asset and theta (time) decay.
What does that mean exactly?
It means that you receive the cash upfront …
That's right, you get paid to take that trade! 
The Odds Are Stacked In Our Favor
Option sellers take maximum advantage of the option time decay theory, commonly known as Theta Decay.
OTM options lose value quickly and become worthless at expiration.  
This allows traders to not have to worry about correctly predicting the market direction or timing the market perfectly to generate income.
We can take advantage and be the house with odds in our favor on every trade
Don't forget that an option buyer needs to be right about direction and time! 
Remember traders, there are many ways to make money in this market and selling options is one of my absolute favorite go-to strategies.  
Key Points:
Credit Put Spreads profit if the stock goes down, stays the same, or goes up 

Limited risk

Puts the house odds in your favor

Allows you to get paid to take risk
Wrapping up
Fractals are the cornerstone of Energy Trader
When it comes to placing a trade, I always make sure there's an edge by leveraging the power of the internal energy of a stock and pattern.
And I always make sure that I utilize a strategy of selling options or spreads to focus on generating a steady flow of income for my trading business.
But what's extremely important to remember is that there is a strategy for both going long and short stocks that are available to you.
Plus Credit Spreads give unique advantages to traders over debit spreads, with the most important being that you are paid upfront to place a trade!
To learn more about options and leveraging the power of Fractal Energy make sure to sign up for Options Profit Planner Now!