Ever want to generate income outside of your daily job but don't know where to start?
It's ok – not many people do.
I turned to trading when I had that exact same question and started to trade options to generate income.
But I did not start selling options blindly – I turned to Fractals to guide me
Fractal Energy is the "thumb on the pulse of the market" indicator
So what is Fractal Energy, anyways?
It's one of the two indicators that I use for steady and consistent profits!
And when I sell options combined with these indicators, I stack the odds of a win in my favor!
This core strategy allows me to win almost 75% of the time with profits consistently over 80%*
I'm talking about 93% in gains on my last trade
You see, in my opinion… it's the simple way to generate steady and consistent income 
And if you want an income stream you need to put this into action for yourself
This is how it's done…

One thing I like about trading options is how a trader can create almost any strategy they want.
From buying options to credit strategies, the possibilities are endless.
But many strategies aren't for me.
You see, I want the 'house odds' on my side.  
And that's why I trade credit spreads.  
Now I don't trade these spreads blind, instead I turn to my proprietary indicator that can gauge the internal momentum of a stock.
I call it Fractal Energy and I never trade without it.
And as a member of my service every member receives this indicator coded for the brokerage platform of their choice!
What is Fractal Energy
To cut down the work that I have to do every day, I only focus on stocks that meet qualifications set by the Fractal Energy Indicator.
To understand price action you need an indicator that is built for the job
Fractal Energy can determine stocks that are charged to run or exhausted and ready to stall out.
Now – what are fractals?
The power of fractals allows me to determine the strength of trends and how much "life" is in a stock's movement.  
There are 2 main components of Fractal Energy:
Markets Fractal Pattern

The Internal Energy 
Those two different components create a single indicator that is able to determine the strength or weakness of a trend on any stock.
Here is how it looks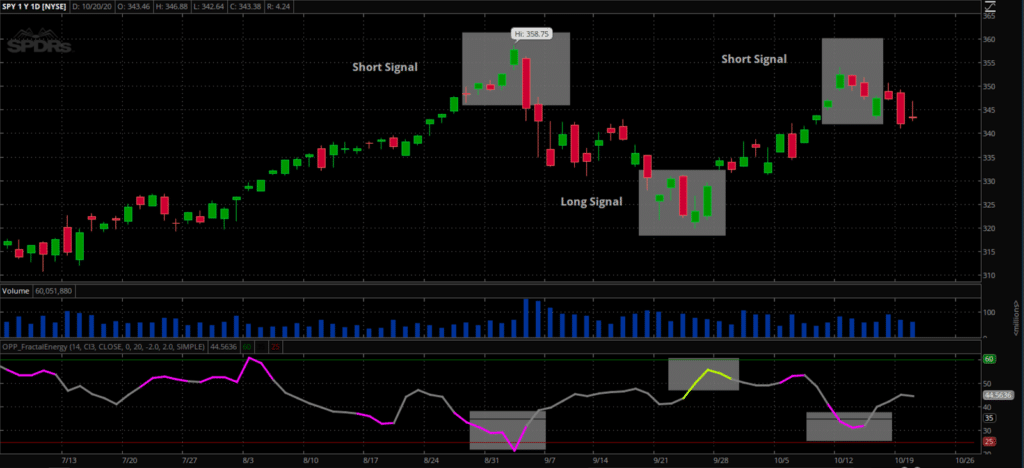 Source: Thinkorswim
It can't be more clear
Fractal Energy signaled three of the recent market pivots many other indicators failed to recognize.
Here's how the RSI looked for the same period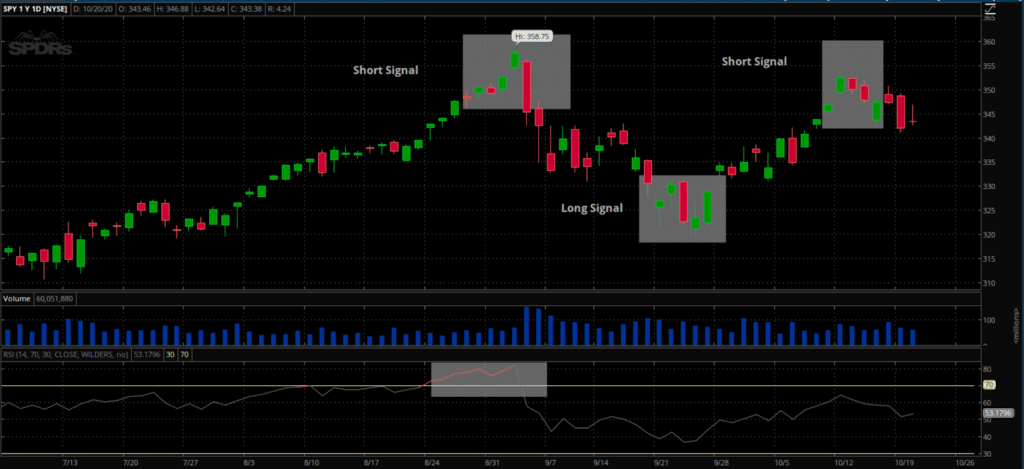 Source: Thinkorswim
Now according to the RSI indicator, it signaled 1 out of 3 pivots compared with Fractal Energy.
This is when I search for income strategies instead of taking bets in the market to put the odds of success in my favor like the casinos do.

Generate Income With Credit Spreads
In order to generate income, I need a strategy built for the job… and that's why I turn to credit spreads.
My go-to trading strategy is the credit put spread or a  naked put in order to get paid upfront to own a stock at a discount!
The Credit Put Spread is a neutral to bullish options trading strategy.
It aims to capitalize on both sideways or upward price movement of the asset and theta (time) decay.
What does that mean exactly?
Selling options means that you receive the cash upfront …
That's right, you get paid to take that trade! 
And there are many income trading strategies that are available to choose from, but these are my four favorite ones to use
The four main income strategies:
Short call spreads

Short put spreads

Credit puts

Covered calls 
Stack The Odds In Your Favor
Option sellers take advantage of two main components in the option pricing model, time decay and implied volatility.
And when you trade Out-of-the-Money (OTM) options they are primarily priced based on extrinsic value.
It's the extrinsic value that is calculated by time until expiration and implied volatility.
This means that the closer to expiration you get, both the expiration and implied volatility decreases.
This allows traders to not have to worry about correctly predicting the market direction or timing the market perfectly to generate income.
We can take advantage and be the house with odds in our favor on every trade
Don't forget that an option buyer needs to be right about direction and time! 
Remember traders, there are many ways to make money in this market and selling options is one of my absolute favorite go-to strategies.  
Key Points:
Credit Put Spreads profit if the stock goes down, stays the same, or goes up 

Limited risk

Puts the house odds in your favor

Allows you to get paid to take risk
Wrapping up
Fractals are the cornerstone of Energy Trader
When it comes to placing a trade I need an edge before risking my hard earned money.
So that's why I I utilize a strategy of selling options or spreads to focus on generating a steady flow of income for my trading business.
But what's extremely important to remember is that there is a strategy for both going long and short stocks that are available to you.
And unlike buying stocks or options, credit strategies give a unique advantage to the trader… and that means you are paid upfront to place a trade!
Ready to sign up and test this out for yourself?