Don't get me wrong, trading stocks is good enough for many traders… after all, it seems easier than trading options for many.
However, if you know me, it's not a strategy that I like to trade.
Why?
Because I can't control my income like I can trading options.
You see, when I trade options.. I have full control over my profits.
It's the ability to change my strategy that gives me the edge I need in these markets.
And if a stock is to trade sideways, a stock trader would get chewed up where I would actually generate profits for my trading.
Wondering how this works?
Well, I utilize credit trading strategies to give me the best of both worlds, and it has allowed me to go undefeated since launching my service
Ready to learn more?
Energy Trader is my new service, and it's focused around two things…Finding stocks that are trading near a major support or resistance level, with charged or exhausted internal energy
Now if there is a quiet market or we are outside earnings, I will use a scanner to find trades and narrow my focus in the markets.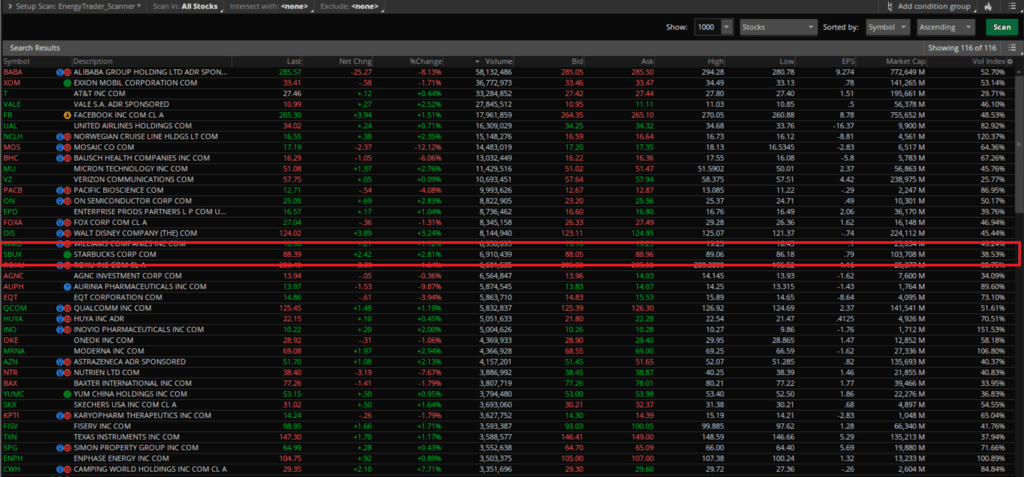 Now, this scanner gives me the ability to quickly find my A+ setups where a stock is sitting at a resistance level, with the Fractal Energy charged up and ready to go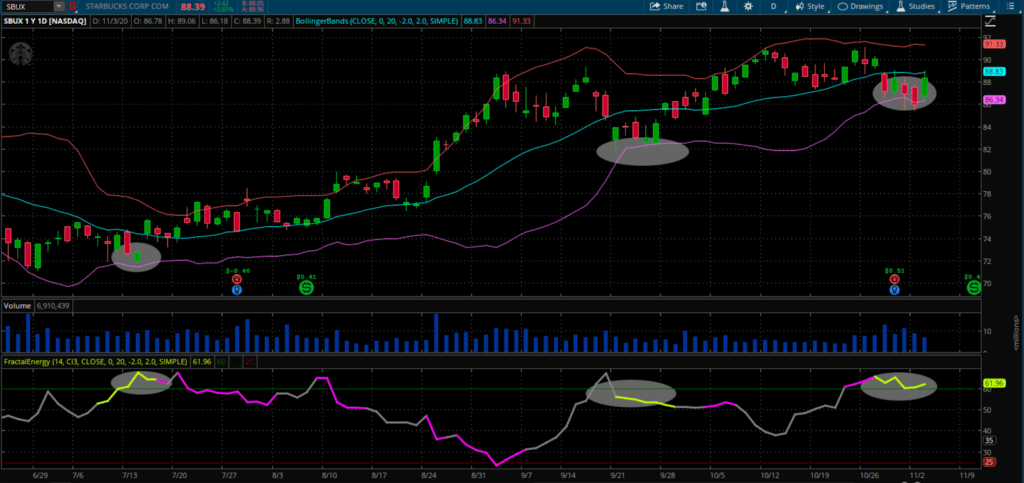 But that's not the only way I find great trades… I also keep my ear to the ground during earnings season and for breaking news every day
Here's how I found a trade in TSLA
Earnings Can Move The Markets
Just the other week, I was taking a trade in TSLA that was releasing earnings and I knew that I wanted to be involved with the juiced up pricing on the options.
This makes for a great credit trading opportunity when the market makers increase the value of the options ahead of known events like earnings.
Here's a look at just some of the earnings that were reported the other week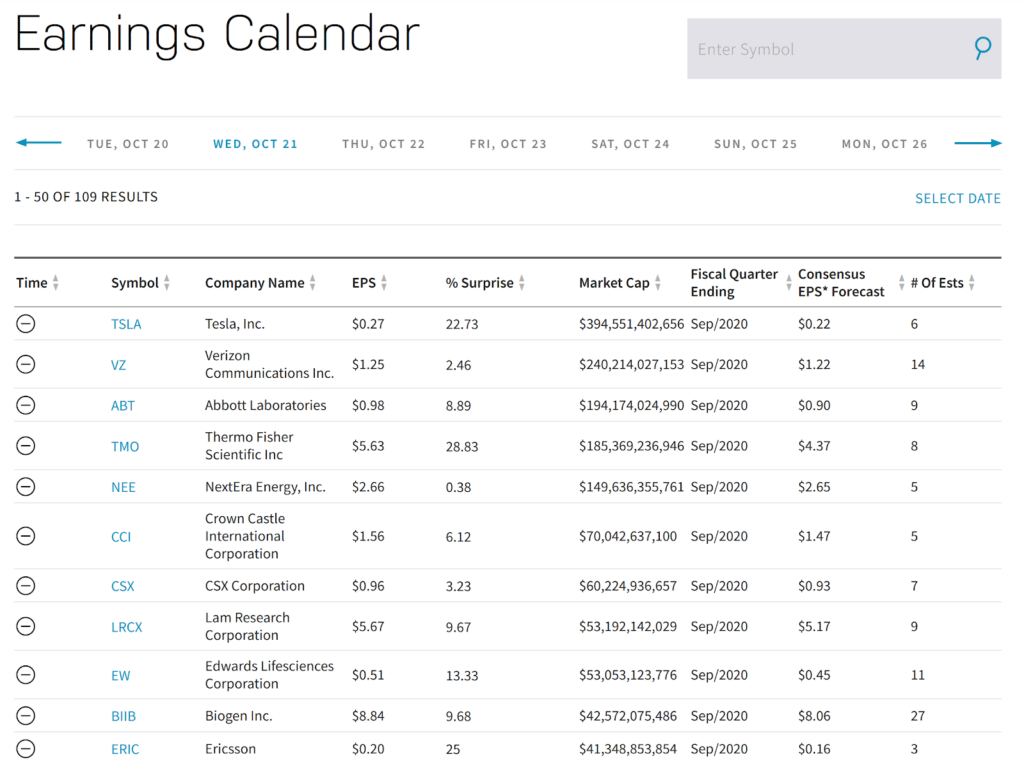 And for me, this is one of my best strategies taking advantage of market volatility and options mispricing.
It's important to remember to be careful around earnings and trading options with higher levels of implied volatility can be risky.
If you have an indicator that is designed to profit during high volatility, then you have an edge against the other traders
Fractal Energy and credit spreads are the way to control volatility
But, earnings season is not the only way to increase volatility…
Let's take a look at one additional factor that can cause volatility to spike at any time
News Creates Volatility
News is a deadly outside factor when trading and many times it causes traders to suffer huge losses if traded incorrectly.
Let's take a look at what happened in BIIB last week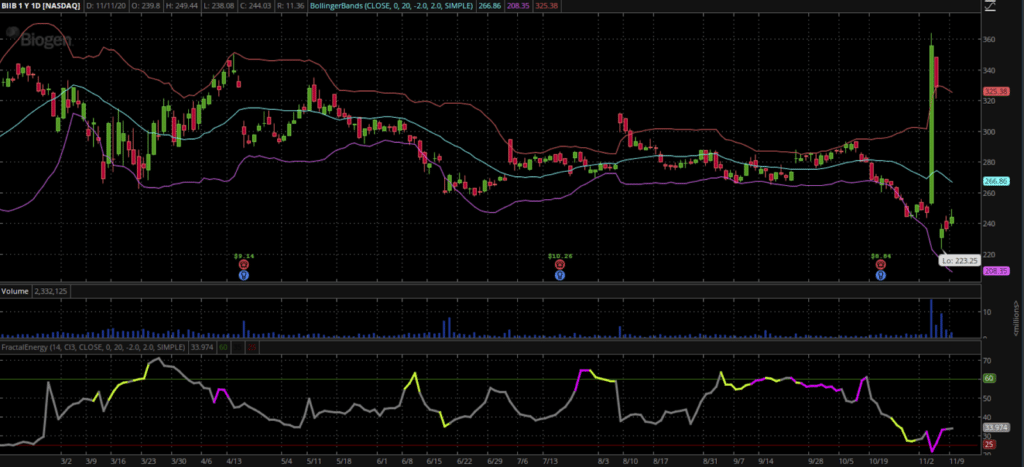 That move was so significant that it would cause any traders knees to buckle
It was a brutal short squeeze, and resulted in a tremendous loss for traders
But you see, in this price spike up and then suddenly back down, volatility erupted and caused options prices to increase dramatically
And this where I wait patiently for my opportunity to trade a credit spread
Now I thought once BIIB collapsed back down and went lower than before the news broke, I knew I had to be involved
Here is what the Fractal Energy told me about the stock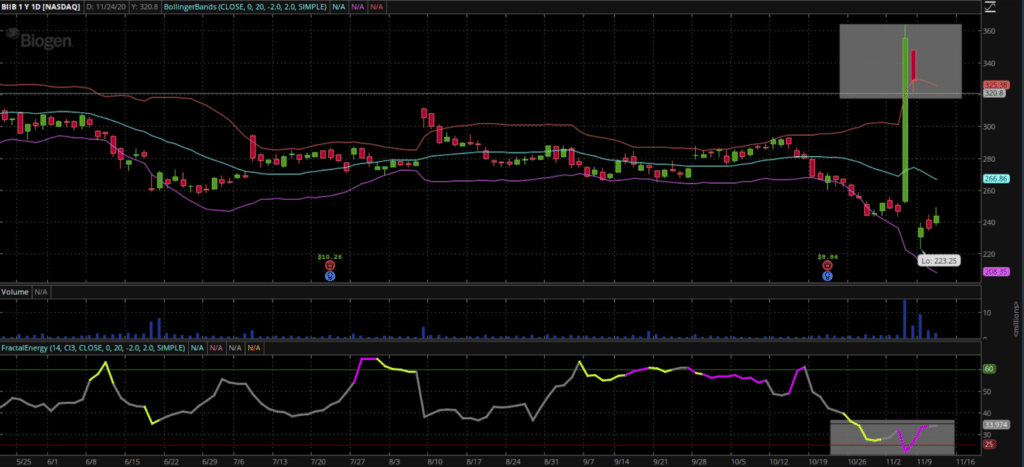 As you can see in the highlighted section, the price action got extended through the upper Bollinger Bands and the Fractal Energy as totally exhausted
This was telling me that this price action could not be sustained
And then it collapsed back down, with exhausted Fractal Energy.  This told me that the move lower could not be sustained either
With the back and forth in BIIB, the volatility was being kicked up as traders bet on the direction of the stock after the news broke.
To execute this trade, I would have focused on two things:
A credit call spread at the top after it soared higher, to trade BIIB lower

A credit put spread after it collapsed, to trade the stock back higher.
And both strategies take advantage of the increase of volatility
But this was a trade I didn't take, as it was not in my parameters as a perfect trade set up.
Do you want more than just research?  
Only members will get the trade alert when I actually place the trade on trades just like these. Join now!
Don't get the e-letters?