Many people start trading options with the idea that going "rags to riches" is only a hop, skip, and a jump away.
Sadly, many just blow out their accounts — never to trade options again.
But it doesn't have to be this way.
You see, with the right edge, I believe it's possible to put yourself in a position to generate income with almost every trade.
Of course, trading is difficult and it took me a while to master this strategy for myself.
And once I mastered it,  I've gone undefeated since the launch of my service… and in my opinion, I think it can continue into next year
I believe that once you learn this strategy, you will be kicking yourself for wasting time on everything else.
I felt it was like turning the lights on in complete darkness…it all made sense once I started trading credit strategies with the right edge!
Now I wonder what it can do for you…
Selling put options is a great way to put the power of the casino in your favor.
This means you'll be selling options to the gamblers, and collecting income as you go.
Pretty sweet, huh?
This strategy checks off a lot of boxes when it comes to ease of use plus the extra income you can generate
And one of my most favorite parts of this strategy is that I am paid upfront for taking this trade.
All options come with two main parts:
A price obligation (the strike price)

A time obligation (the expiration date)
But you see, I don't start to sell puts on every single stock I find on a watchlist…
I only want to trade this strategy when I have a defined edge!
And I turn to the power of Fractal Energy to determine where to place my trades
Now, let's take a look at how I generated nearly 100% returns on my MGY trade
Once I saw this chart, I knew it was money…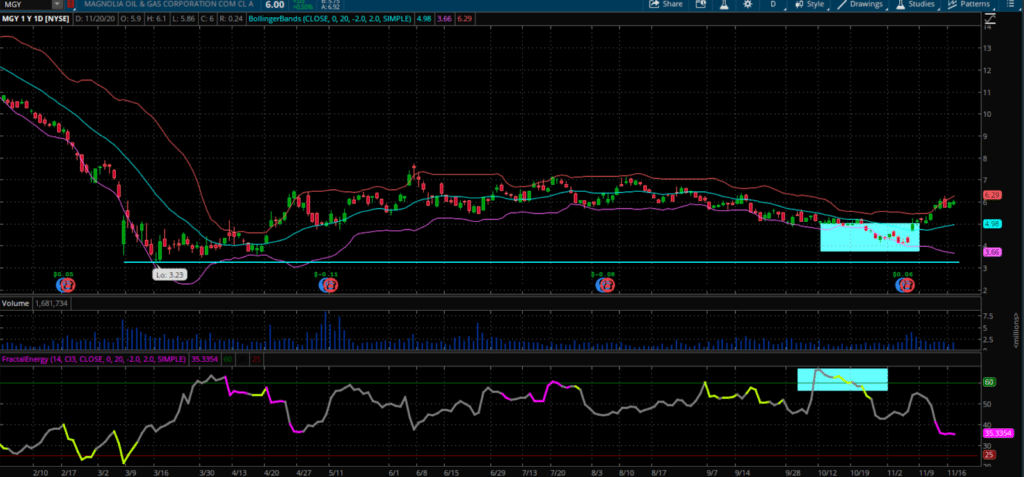 Source: Thinkorswim
The trade that I sent out to my trading community 
ALERT:  I sold the MGY Mar '21 $5 put for $.85.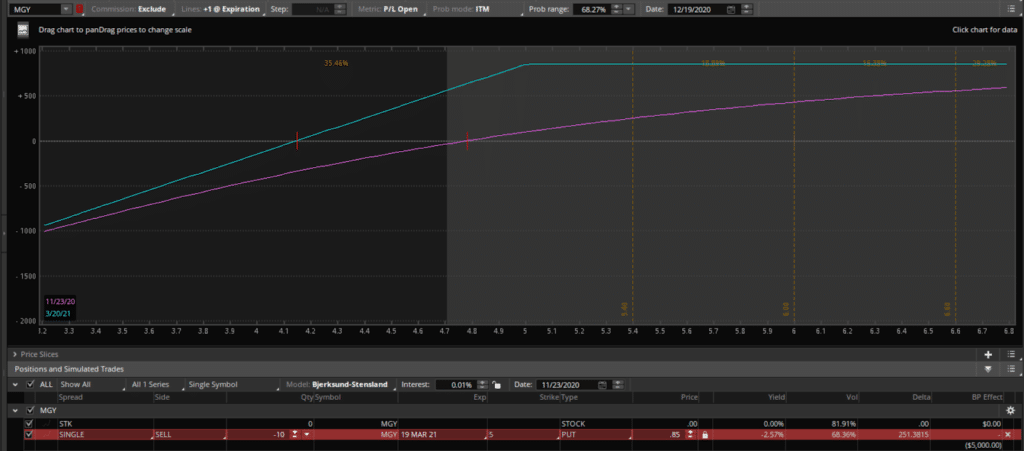 Source: Thinkorswim
You see, I just need the stock to stay above $4.15 and I'll generate income!
Then shortly after I placed my trade, MGY turned around and started heading higher.
Now it's time to ring the register!
But first, why did I decide to sell these puts?
Well, for two reasons:
MGY was trading near two forms of support, the 52-week low, and lower Bollinger Bands

Fractal Energy was telling me there was a strong move coming soon
You see, just because I know there is a strong move coming soon, I don't know which direction!
And that's where technical analysis comes into play
By using technical patterns and indicators, I found key levels of support or resistance on MGY
Then I came up with a plan of attack for the credit strategy.
So, after reviewing the material in front of me, I decided a short put was the way to trade this stock.  
What does this mean for you?
In my opinion, you need to stop gambling and start focusing on ways to generate income.
I need to feed my family, so this means weekly, monthly, and yearly income is required to live on.
And even though there are traders who can gamble on options and land huge profits, there are many many more losers out there.
So why chase a strategy with such a high LOSING rate? 
Instead, you should learn a strategy that has a high WINNING rate!
That's what selling credit puts and credit put spreads are best known for!
These strategies are like being the house with the odds in your favor.
You win more than you can lose, and combine this with the correct risk management strategy, you can create a steady income stream like I've done for myself.
And I've mastered and I'm ready to show you how it's done and  how you can trade these income strategies every week !
So, if you're reading this email, chances are you are missing out on the next winning trade just like this one.
Don't miss out on my next income-generating trade and start getting alerts for my trades that I'll be placing going into the holiday this week.