In this market environment, good stocks are pulling back and junk stocks are popping…
But, this week seems to be different, with all three indexes closing at all time highs.
Now, even though it might feel like stocks are going straight up, I am finding that they are actually trading in very predictable patterns, in my opinion.
One way to uncover these plays is to identify where the momentum will hit, and execute the trade, and wait for the fireworks to go off. 
Of course, with Janet Yellen potentially leading the Fed again, there will be momentum opportunities popping up everywhere.
You see, with so many stocks to trade, you need to have a way to filter out what you want to trade and where you have an edge – and buying stocks randomly is not a strategy you want to even think about…
Instead, I want to show you how you can identify these plays using these two indicators.
There are many catalysts coming up in 2021, but the presidential election and change of power is in the spotlight.  You see, a lot of traders are eyeing more stimulus to boost the economy.
And now that Jannet Yellen is joining in on the fun, I think we are going to see a record-setting year. 
But what does this mean for stocks.
With this type of cash being thrown into the markets, it means they are going to the sky.  And some of the best opportunities are going to be found in stocks you would least suspect.
Of course, you're probably thinking, "Dave… how do you actually uncover these trading opportunities?"
I think it's actually pretty simple..  Let me explain
Every day, I use a screener and filter for stocks to potentially trade.  For the most part, I am looking for stocks that match my favorite Fractal Energy and Bollinger Band setup.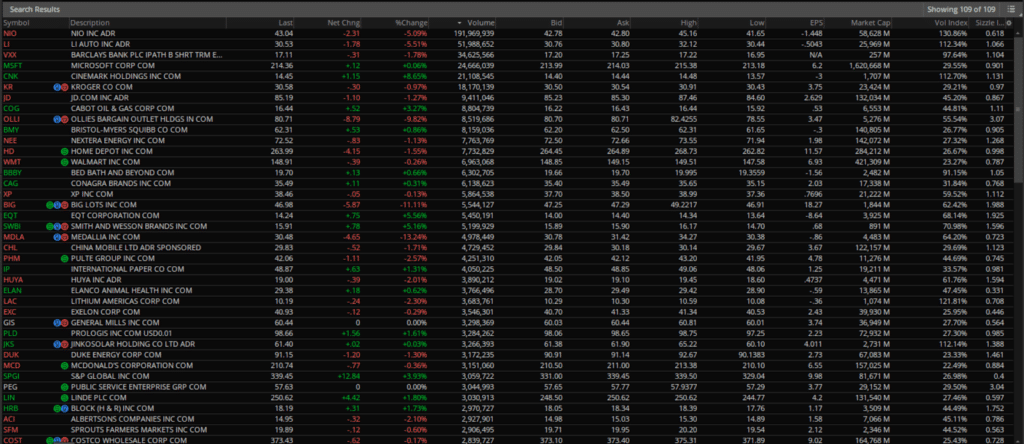 If you look above, it's not a lot of names.
You see, there are only 100 names for me to look at on here instead of trying to go through over 25,000 stocks that trade in the US Equity markets.
But sometimes the best opportunities pop up from trades that are not even on a single stock, but instead the market index.
And what I spotted looks to be a once per year opportunity.
SPX – WHY I TRADED THE MARKET INDEX
Now, I am sure you're a bit crossed at this point, thinking…"why are you even trading a market index instead of a stock?"
You see, the market is sometimes a better signal of what's going on compared to a single stock.
Many times a single stock has too much "noise" or what's known as, "single stock exposure" to make it worth trading.
But when you trade a market index, you cut through all of that BS and only focus on true technical patterns without any of the single stock risk factors.
Just check this out.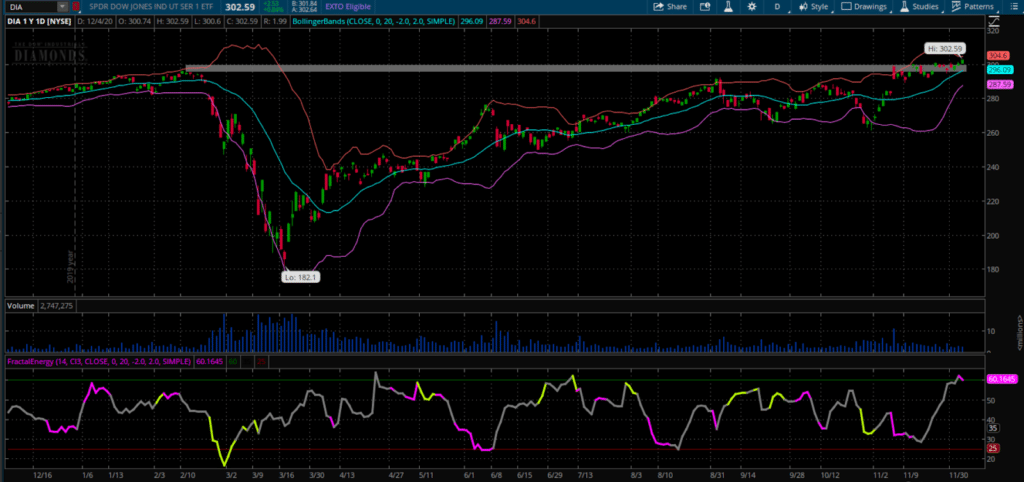 You see, the stock market has been trending higher after the market collapse from COVID earlier in the year.
And it finally got back to market high from almost 1 year ago !
But what really caught my attention was the Fractal Energy reading… where it was charged and ready to start the stock trending.
Now, I don't know what direction the market is going to head, but what I do know is that the internal energy of the markets is very night right now, and this pattern that is setting up has the smell of a breakout written all over it.
Which is exactly what I was looking for in my recent SPX trade that I took this week.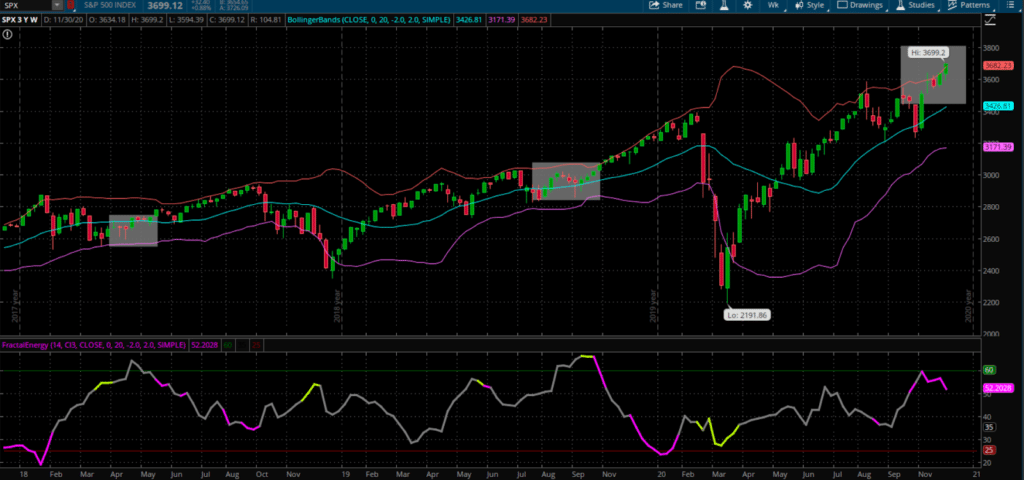 In this chart, you can see a similar pattern.
Once the Fractals get charged, the stock starts to trend higher after the energy is released.
And this is the action that I anticipated in the markets and led me to set up my SPX credit put spread 
Now, in this rare circumstance, all three markets are showing a similar pattern.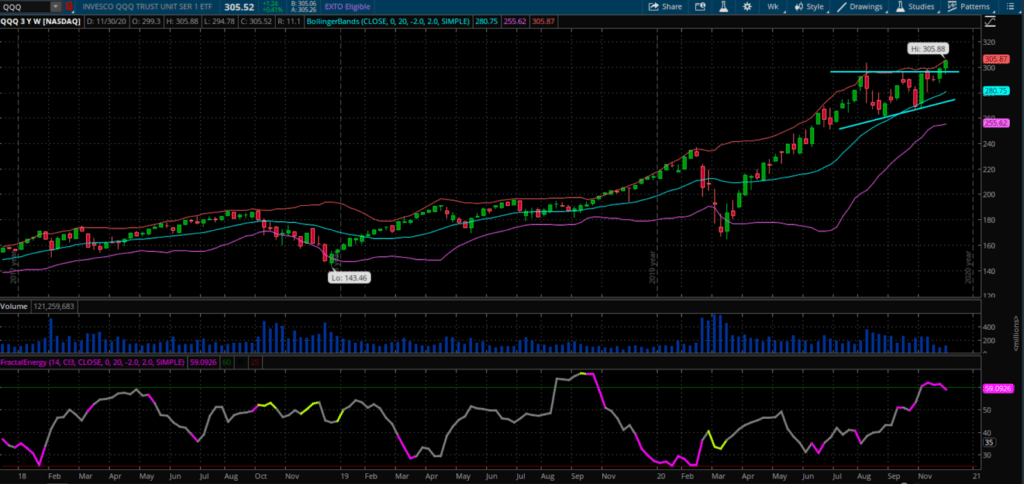 Coincidence that it's aligning with the change of power and the QE and COVID relief funds that are coming up next year?  
Hardly…
You see, the markets are smart, and this is setting up to be one of the most explosive years in the record books.
Now time will tell, and I'm just speculating that the Fractal Energy is going to release higher… but I like my odds with how this is going to play out.
So if and when I decide to trade any of the markets again based on Fractal Energy, I'll be sure to send out an alert to my Fractal Energy subscribers.  
They will receive instant alerts for when I enter a trade and exactly how I'll be structuring my spread.
Don't miss out on my next options trade that I am setting up this weekend to generate more income
And if you hurry and sign up now, members will be receiving a detailed guide for selling options next week, sent to you on Sunday evening.
So what are you waiting for, sign up here to see my next trade
Don't miss your chance to generate additional income week-over-week and month-over-month by using credit spreads
Click here to sign up now and join my team in Energy Trader