The commodities markets are back in the spotlight again, as gold and silver continue to rocket higher
And now there's possible rumors out there that there's not even enough silver in the vaults to deliver everyone their futures contracts if the are held until expiration
Which is sending a ton of warning signals to anyone who is following the commodities markets closely.
Let's just say this… the outcome could result in the total implosion of the COMEX silver futures…
BUT let's say it won't get to that and talk about a few ways you can capitalize on the move in silver and how Fractal Energy might also have seen this coming months ago!
It's hard to say what's going to happen, but one thing is for certain…
It's going to get a lot uglier before the dust settles and we figure out what's to come next for this commodity
And with only a few possible outcomes, it's very likely we could see silver trading near $200 in the near future
But there's no reason to get into the fundamentals of this…
Fractals were able to spot this move months ago!
Lets take a look at how that happened
Fractal Energy
As a trader, spending hours going through stock charts and looking for patterns is just part of the day in the life of a professional trader.
To cut down the work that I have to do every day, I focus on stocks that meet qualifications set by the Fractal Energy Indicator.
When looking to understand what price action is doing you need to reference information other than a basic stock chart to get a true edge in the markets.
And by having an indicator such as the Fractal Energy indicator you can determine stocks that are charged to run or exhausted and ready to stall out.
But first – What are fractals?
The power of fractals allows me to determine the strength of trends and how much "life" is remaining in a stock's movement.  
There are 2 main components of Fractal Energy:
Markets Fractal Pattern

The Internal Energy
By combining those two different components you create a single indicator that is able to successfully determine the strength or weakness of a trend on any stock.
Let's see what I mean by looking at the chart of AAPL and how it picked the top of the market.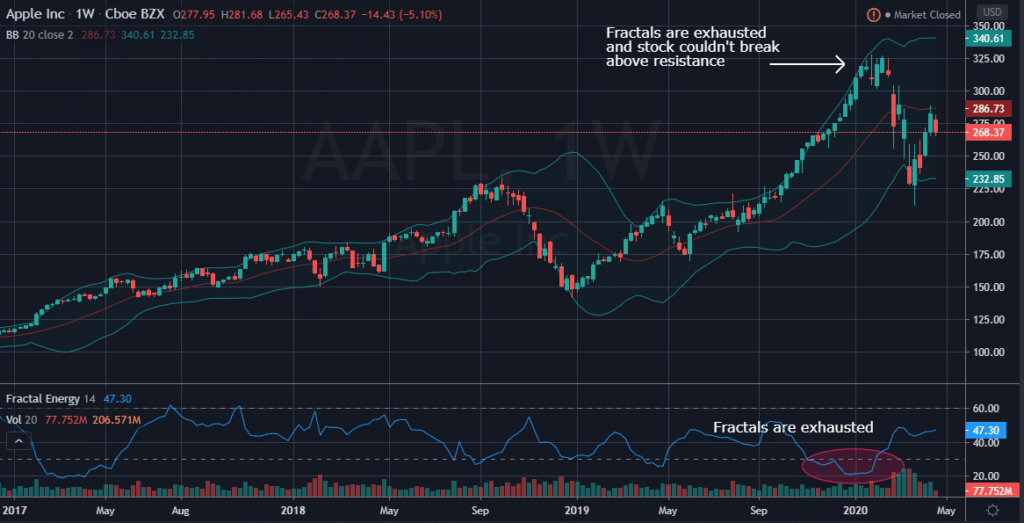 Source: Tradingview
In Apple AAPL you can see that the Fractal Energy Indicator was signaling exhausted energy to AAPL forming at the beginning of 2020.
And then shortly afterwards, the stock plunged lower towards the lower Bollinger Bands.
In this chart you can see two key factors as how the trade unfolded:
Price couldn't break above the resistance level at $325

The Fractal Energy Indicator was severely exhausted
From the technical analysis viewpoint, the failed breakout was a large bearish signal for AAPL.  Then combined with the internal energy, or Fractal Energy showing that it was weak, it was the perfect setup for AAPL to sell off.
And that's exactly what happened.
Next… let's take a look at how this indicator showed a buy signal in silver futures
The Setup
The fractal energy is just an indicator of being charged or exhausted, and it's important to remember that it does not necessarily pick the direction of the trade.  
But that's where Bollinger Bands come into play.
Since the stock was trading off its lower Bollinger Band, it signals that there was support found at those levels.
And when you combine that with Fractal Energy, you'd now got your direction and your timing aligned.
Let's take a look at Silver Futures now…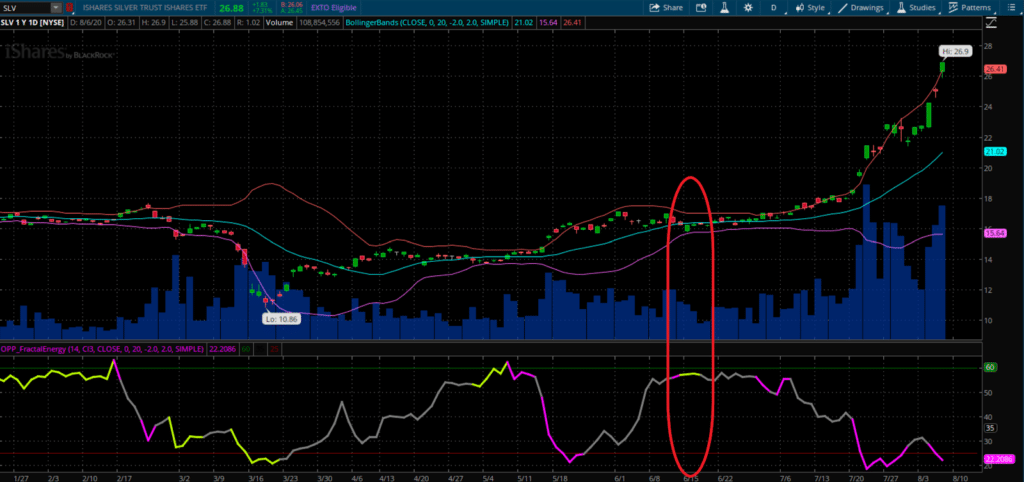 Source: Thinkorswim
The breakdown:
Silver found support at the lower Bollinger Band

The overall trend is slightly positive

Fractals are fully charged
This created nearly the trifecta for the Fractal Energy and is a nearly perfect setup.  
And as you can tell by the chart, SLV made a huge run higher from the Fractal Alert that went off in the highlighted section.
So how do you trade this signal?
You'd look at trading a credit spread, such as a credit put spread or naked short puts to capture returns of 50% or more!
Wrapping up
Fractals are the cornerstone of Options Profit Planner and when it comes to placing a trade I always make sure there's an edge by leveraging the power of the internal energy of a stock and pattern.
And I always make sure that I utilize a strategy of selling options or spreads to focus on generating a steady flow of income for my trading business.
But what's extremely important to remember is that there is a strategy for both going long and short stocks that are available to you.
Plus Credit Spreads give unique advantages to traders over debit spreads, with the most important being that you are paid upfront to place a trade!
To learn more about options and leveraging the power of Fractal Energy