According to an online betting site, over $260M in total wagers have gone towards the Nov. 3 vote…
And this doesn't include what the stock market thinks
The increased volatility over the last few weeks suggests that traders and investors are here in force.  
They are juicing up the price of options trying to bet on which direction the market will head after the election.
As a trader who sells options, this means one thing… higher profits are available with increase volatility.
While many traders will bet on direction using options, I prefer to sell options when the perfect opportunity presents itself.
And this week I've uncovered some compelling price action that has caught my attention in these stocks
So I want to show you what I'm looking for and how I might end up playing these names in the coming days.
Trading during periods of increased volatility just means there is more money on the table to grab when selling options
So when it comes down to hunting for the right pattern, I make sure I turn to the fractal energy scanner 
I typically look for a pattern that includes three of my favorite technical indicators and determine the best spots in the charts where I would want to trade options 
Take a look at my stock screener that is setting up possible trades ahead of the election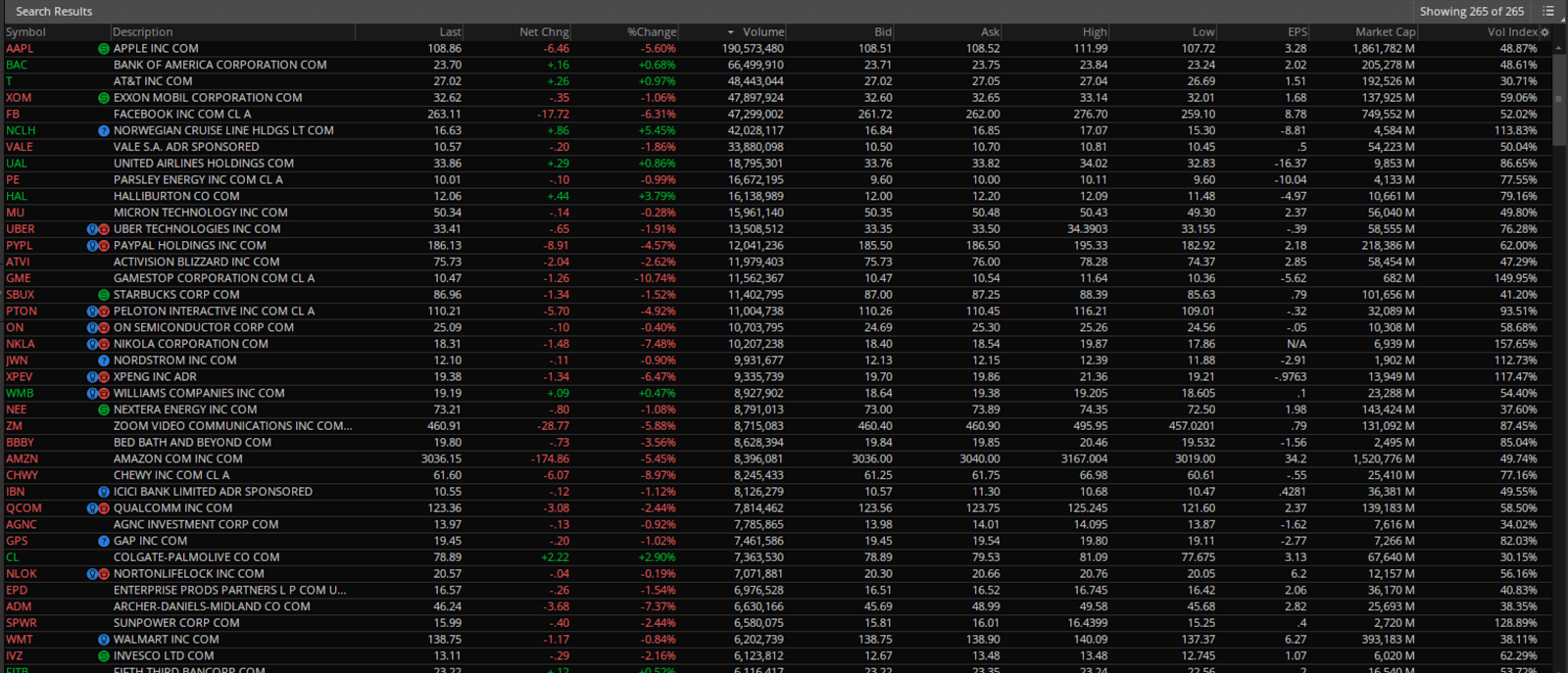 Now this might look like an overwhelming amount of stock to look through, but really it's not when you compare it against the entire market of 30k stocks.  
This is a list of 200 or so names, out of 30k names, or approximately 0.6% of the size of the market
That's the power of the scanning feature to narrow down the stock universe that I want to look through.
[ Click here to learn more about my custom Fractal Energy Scanner ]
But I am not sure what direction the market is going to be taking next week, and in my opinion, it's best to stay patient and wait for the stocks to trade into your levels before taking action.  
So I will create a watchlist of the trades I want to keep a closer eye on – and if everything lines up perfectly, I might even take a trade
Strategy Corner : [Not sure how to trade credit spreads? Click here to learn more now!]
Let's take a look at the two stocks I have my eye on for next week
Peloton (PTON)
Generally speaking, Peloton is in the right place at the right time when it comes to at-home fitness.
Here is a recap from the previous earnings season and why it can soar in the weeks to come:
PTON crushes analyst estimates as sales surge over 170%

Analysts expect strong demand to continue throughout 2021

The pandemic boosted revenue by 24% above the estimated projection for 2020 after its IPO

Connected fitness subscribers were 23% higher than estimated for 2020
In summary: I feel that the momentum from the previous earnings can carry into the next earnings report.  I don't see the at-home fitness trend ending anytime soon especially with so many people nervous about returning to the gyms.
In my opinion, fundamentally there is a case to invest in Peloton, I would rather look at PTON from a technical perspective to trade around its daily price action.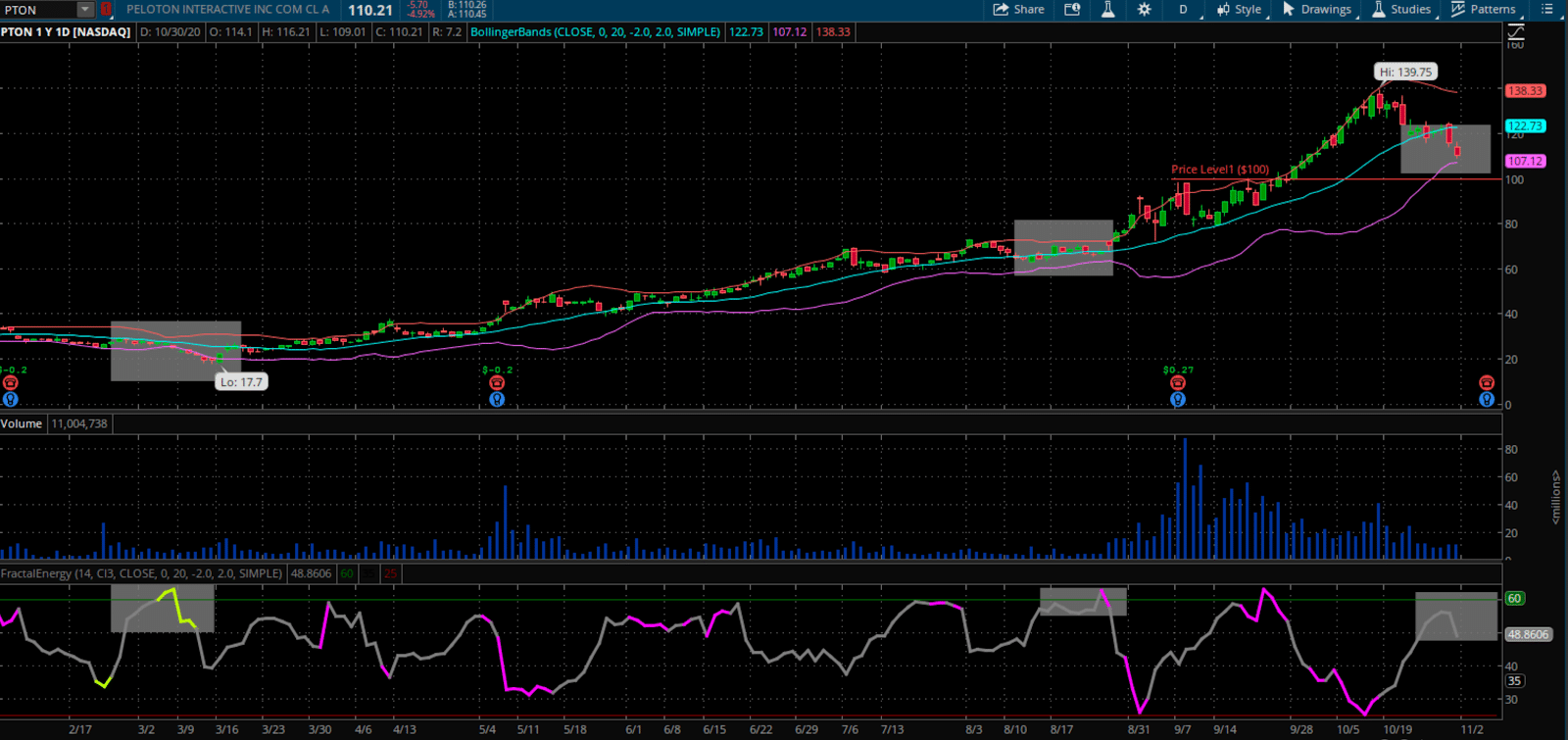 Breaking down PTON:
Fractal Energy has been reliable in determining where buyers are stepping into the stock at various price levels

Bollinger Bands has been acting like ropes in a boxing ring and keeping prices inside it's range

Psychologically, $100 / share is a major level for a stock to get over and stay above.  If it can hold the lower Bollinger Band and the $100 / share price level going into earnings, this stock could be headed higher
Now I am not trading PTON just yet… so it's important to remain patient and see what this stock does next week!
Since it's earnings are next week, it could be a perfect trade – so I've got it on my radar!
Amazon (AMZN)
The darling of Wall St?  
Perhaps, but there is more to the story than what meets the eye.
Right now, Amazon has a multi-pronged approach to their business, from their cherished retail business and Prime members to dominating the cloud using Amazon web Services.  
There is little that can slow them down… except for the government stepping in with Antitrust violations.
But so far, it hasn't phased traders and investors…
And as a technical trader, I think I've found two things I like about the chart pattern in front of me.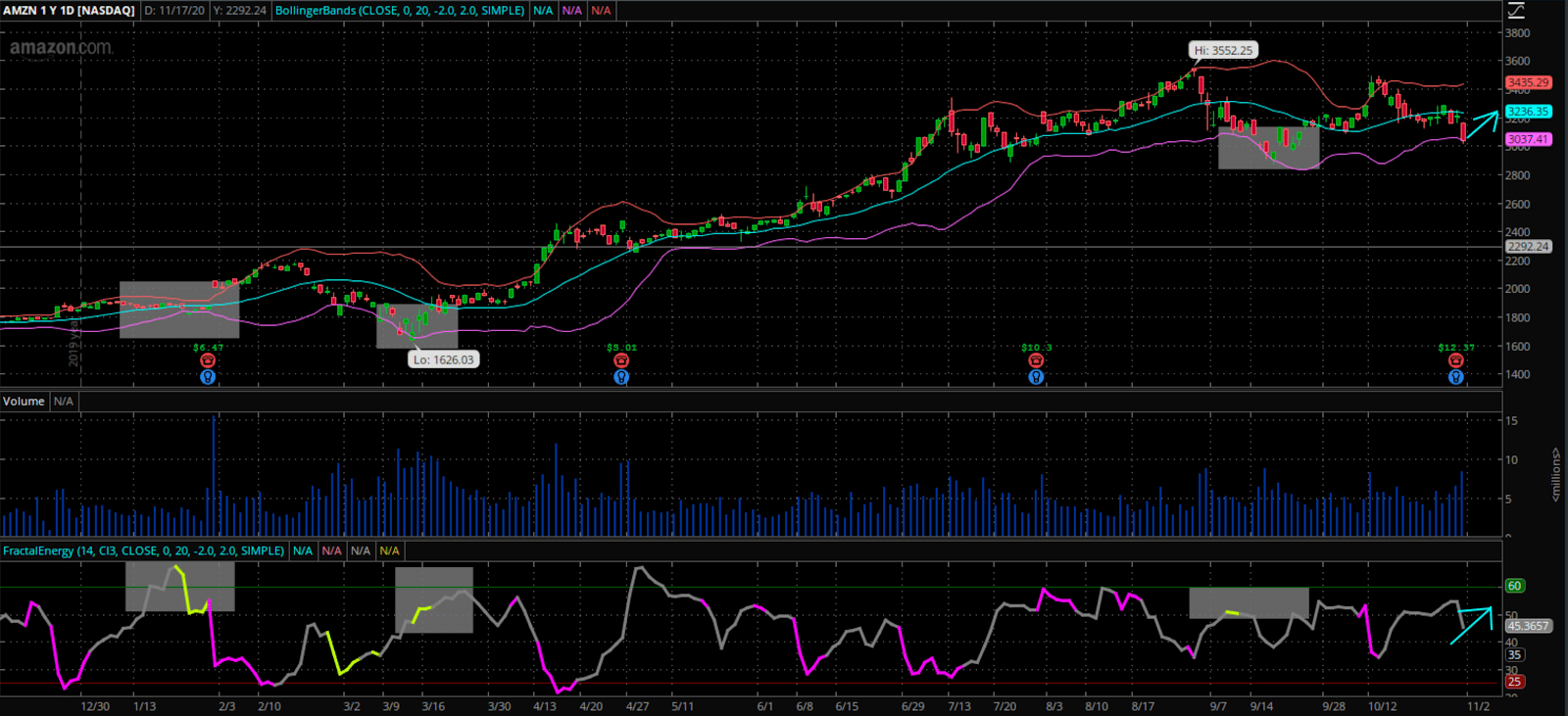 Here is what I see in the chart:
Fractals have been pushing the stock higher through the course of the year

Bollinger Bands have been keeping the stock price inside of it's range fairly well, especially on the downside

If current Fractal Energy picks up, we could start to see higher prices now that we have got through the earnings announcement.  
Just like PTON,  this stock is not something I am going to be trading right away.  
There are a few more pieces to the puzzle I would like to see played out, so I will be keeping a close eye on it!
Learn How I Am Trading Fractal Energy 
I am expecting to see some fantastic trading opportunities coming from the volatility around the elections.
And now that I've got a few stocks on my watchlist, I will be looking at the options markets to find juiced-up contracts to sell
You see, I don't want to be the sucker and bet into this election… 
Instead, I would rather generate income and sell these options to the betters leveraging the power of credit spreads combined with Fractal Energy
Some recent trades include a 84% win on American Airlines (AAL), a 91% gain on OneMain (OMF), and huge 95% gain in NMI Holdings (NMIH)*
Ready to learn how I generate profits on a weekly and monthly basis?