Now that the elections are wrapping up, it's time that I turn my focus back to earnings and Fractal Energy trading plays
Typically this time of year is packed with things to watch for.  
Some ideas you can keep your eye on are:
The Q4 Economic and Jobs report

Black Friday sales 

Holiday shopping numbers 

Q4 Corporate Earnings 
The list goes on and on…
But this year is different, due to the pandemic … and that means fractal energy trading opportunity
You see, when there is uncertainty and volatility in the markets, my Fractal Energy strategy thrives
Now, I don't want to get ahead of myself yet… but things are shaping up nicely for a strong end of the year
This weekend, I've uncovered some of my favorite patterns setting up around the markets, especially in these three stocks.  
And I want to show you what my indicators are telling me and where I think these names can run to
When it comes down to finding stocks to trade, I always turn to a fractal energy scanner to help me with narrowing down my ideas
And two scanners I typically use are geared towards finding exactly what I want to see
I scan and search for 
The perfect fractal energy setup (Thinkorswim)

Stocks that are of high value for a long-term investment (Finviz)
You see, I don't necessarily use each scanner for every trade, but these tools help to give me confidence in my decision and why I chose a stock to trade.

Now I don't want to take every one of them, but instead get together a list of the "best of the best" to trade on
Momentum might continue this week, but in my opinion, it's best to stay patient and wait for the stock to trade into your levels.  So I will create a watchlist of the trades I want to keep a closer eye on or even place trades in.
Strategy Corner : [Not sure how to trade credit spreads? Click here to learn more now!]
Now let's dive into what I found on my watchlist…
ALI BABA (BABA)
Starting off my watchlist is a Chinese ADR stock that is in the e-commerce markets.
This stock has been in a steady upward trend lately due to the explosive growth for online shopping.
What I see when analyzing the Fractals:
The Fractals are charged and set for a new trend

Earnings have already passed, causing the IV and premium in the options markets to drop

There is a well defined uptrend in the stock

Recently, there is a period of consolidation over the last week of trading 

Support seemed to hold at $280/share
So while BABA is still setting up to be a trade, it's not one that I will be taking right away.
SNOWFLAKE (SNOW)
Now I don't usually do this, but this recent IPO is starting to catch my eye
This stock has been in a nomansland recently, where it is stuck between support and resistance lines.
What this means to traders, is that they might want to sit out and stay on the sidelines
What this means to a Fractal Energy trader is that it's time to start looking for a trade.
Why is this?
Because as the sideways action is playing out in SNOW, it is causing the Fractal Energy to increase in value as the chart zigzags in a sideways pattern.
Let's take a look at what I see in this stock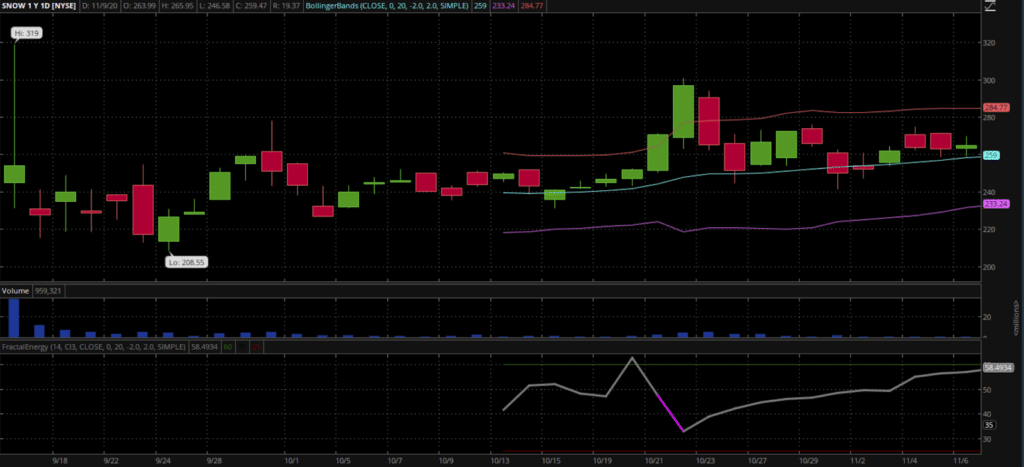 Now, if SNOW can find another support level or trade to the lower side of the Bollinger Bands, this might be a trade I will put on.
But for now, I am not going to be taking this trade in SNOW and waiting on the sidelines patiently for my chance to jump in.
DICKS SPORTING GOODS (DKS)
Due to the pandemic and everyone trying to stay active, learning a new outdoor sport, or finding a new hobby… Dicks Sporting Goods has been your go-to location for finding your new gear.
And as an industry leading sporting goods company, not even Amazon can outpace their stake in this market share.
Why is this?
Well, for a few reasons, but the main one is the "touch and feel" that you get from buying goods directly from a store instead of on Amazon.  This is an example of where "mystery meat" is not something you want when trying to get out fishing.
So, besides a fundamental reason to buy DKS, I want to take a look at the Fractal Energy and see what it's looking like.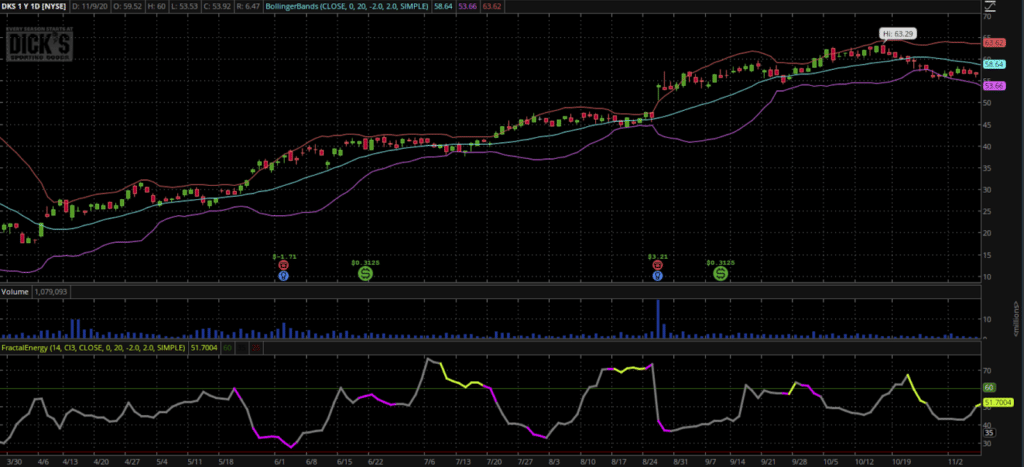 As you can see, DKS has been in a strong trend all year.
And multiple times when the Fractal Energy becomes charged up, it has an explosion higher as it starts trending.
Wrapping Up
There are plenty of Energy Trades out there, and I want to teach you how to find them.
That's why I created Energy Trader, so you can learn how I identify my scalable and reliable pattern to attack the market.
Now, this is just my watchlist for the week ahead
And if my pattern sets up perfectly, I will be taking these trades.
But only my subscribers will receive exclusive access to this information.
To stay up to date with my weekly research and receive actionable trade alerts when I place my trades, sign up to my Energy Trader subscription today.
Remember, once I decide to trade these stocks I will not be sending this information out to anyone other than the subscribers of Energy Trader
So before missing your chance at learning how to trade one of these stocks utilizing my special indicators – sign up here before it's too late.