It's finally Monday, where I am revealing my three top picks for the week.
You see, I could give you any random stocks to look at… but I don't want to do that.
Instead, I want to give you my curated list of stocks that are hand selected from my Fractal Energy trading strategy.
But, why would I want to give you my top picks, when I could just trade them for myself?
Many other traders would think I'm crazy
But unlike many traders, I'm not selfish.
You see, I like to educate and teach traders how to make money in the stock market and develop an edge they can grow from.
And by providing you a little sprinkle of trading knowledge, I hope that I can convince you that my trading team is worth becoming a member of.
So let's dig in and start looking at the three stocks I am going to keep on my radar for next week and how I will trade them if everything goes according to plan.
When it comes to finding stock, I can't manage to scan every stock by hand.
Instead, I turn to a fractal energy scanner to help me narrow down my focus to around 100-200 stocks.
And I scan and search for:
The perfect fractal setup (Thinkorswim)

Stocks that are of high value for a longer-term investment (Finviz)
You see, I don't necessarily use each scanner for trading… 
But when I use them together, I can narrow in and target specific stocks that are setting up for my perfect trade
Let me show you what I'm watching for next week…
Bentley Systems Inc (BSY)
Here is what I'm watching for BSY
It's a relatively new company, with a recent IPO in Sept 2020

Finding support at the bottom of the Bollinger Bands

Fractals are starting to charge up, with a current value of 55.81

Just finished earnings last week, could still have some remaining volatility left in the options as the price of the stock sold off (causing the puts to increase in value)

Trading near IPO price, could see a technical level of support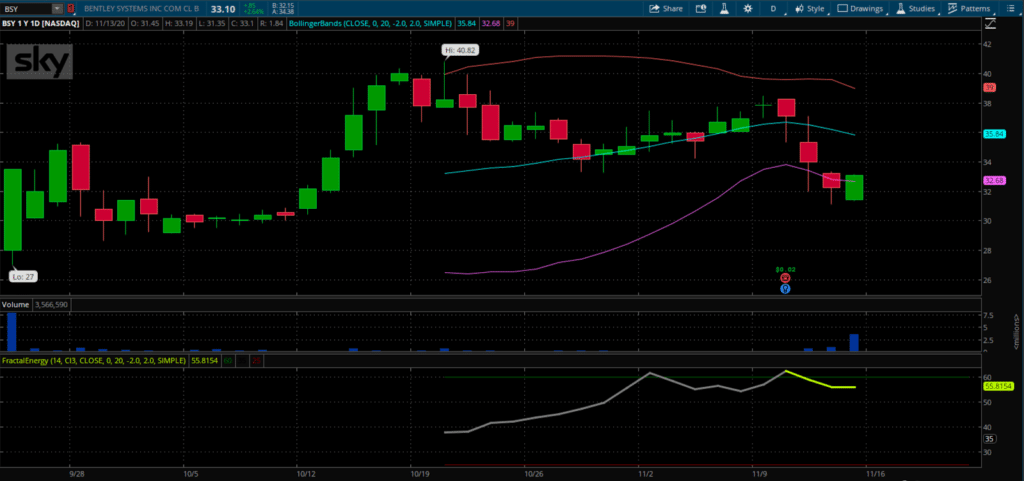 Owens & Minor Inc (OMI)
OMI just came off of earnings last week, and sold off lower, causing the options pricing to increase

OMI has found a technical level of support at the lower Bollinger Bands, suggesting the stock is heading sideways or higher from here

Fractal Energy is at 55, meaning the stocks internal energy is getting energized to push the stock to start the new trend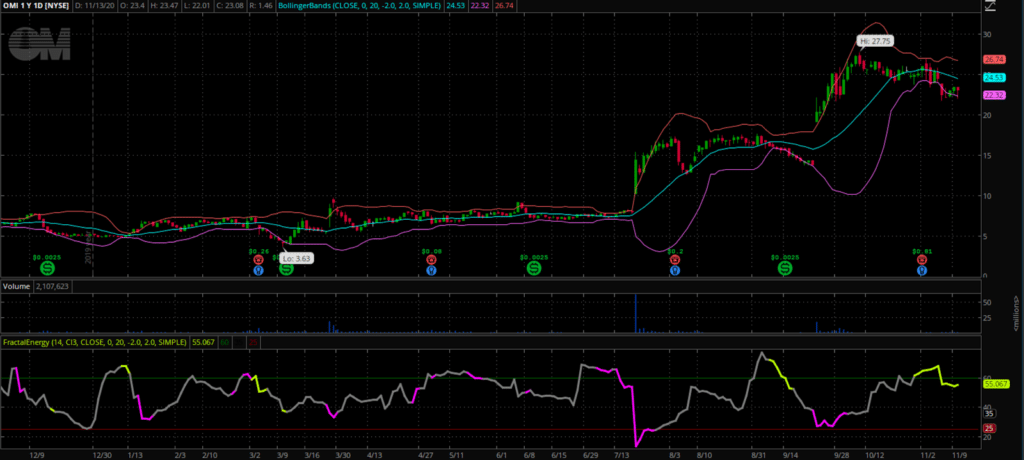 Minas Buenaventura ADR (BVN)
BVN selling off into it's Bollinger Band

Needs to find support at prior pivot 

Lower Bollinger Bands can act as a technical level of support

If the technical levels support the stock price, we could see a sideways or higher price into the future

When this happens, Fractal Energy is suggesting that a trend is imminent, and could fuel the price action for the next 1-2 weeks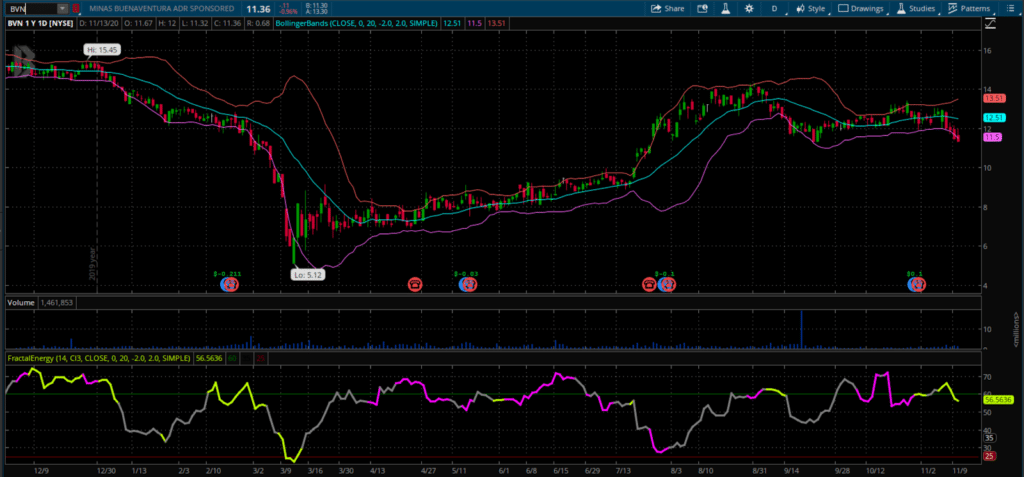 Wrapping Up
There are plenty of Energy Trades out there, and I want to teach you how to find them.
That's why I created Energy Trader, so you can learn how I identify my scalable and reliable pattern to attack the market.
Now, this is just my watchlist for the week ahead…and if my pattern sets up perfectly, I will be taking these trades.
But only my subscribers will receive exclusive access to this information.
Now you don't want to miss these trades 
Make sure to sign up here before it's too late and you can join in this Fractal Energy action with me
Be sure to join Energy Trader and Options Profit Planner, here!