Have you been watching EV stocks explode higher these last few months?
I know I have been.  And for many traders, they have been stuck on the sidelines not sure where to even enter the trade. 
Or, if you were suffering from FOMO, maybe you just slammed into a position… only to watch it reverse against you.
If this sounds like a familiar story, I think I've got the solution for you… Fractal Energy.
Fractal Energy happens to be one of my favorite chart patterns to leverage the greed of buyers and sellers, and it puts the odds of the casinos in your favor by using Credit Spreads.
This pattern has been landing me win after win, and so far I've gone undefeated since launching this service.* 
And now, I want to teach you this pattern, not because I think it's great, but because I use it every day when I trade.
It's a strategy you don't want to miss out on learning.
And, it has recently targeted three electric vehicle stocks that momentum traders have been chasing for months…
If you haven't heard the news yet… EV stocks are the craze.
And traders and investors can't get enough of these stocks if green energy is going to be the focus of the next four years.
Now, I don't want to just trade stocks or buy options… that's almost a guaranteed way to lose money.
It's just too risky for me to do that.
What I think I'll do is stay patient and wait for the stocks to come to me.
And that's what happened over the last few weeks.
I've had these three names on my radar for some time, and now I think they are finally starting to come closer to being traded.
Of course, I don't plan on trading these stocks right now… but they are on my watchlist and I think they deserve to be on yours too.
Let's take a look at the price action and see why I think these stocks are ready to pop soon.
NIO INC ADR (NIO)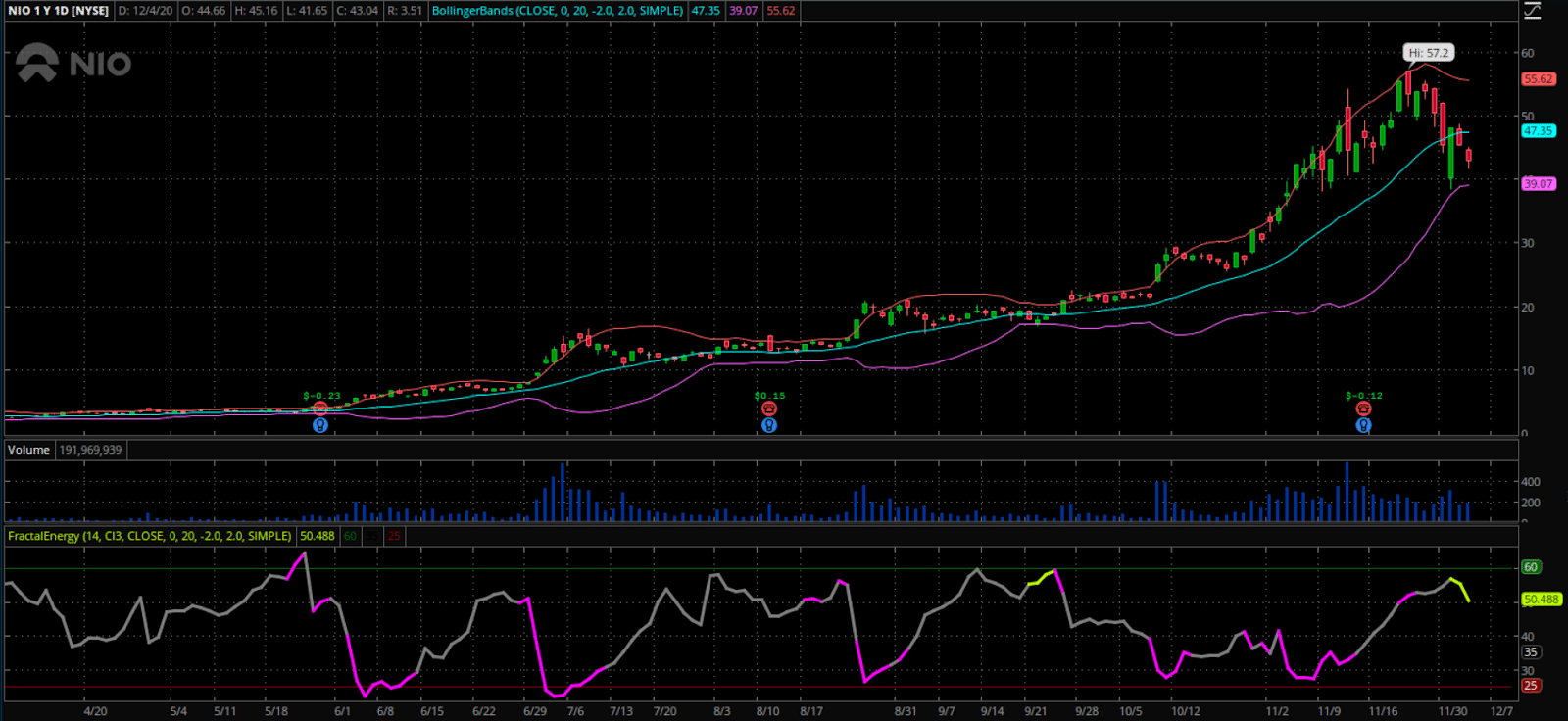 Let's start off with NIO and see what the price action is telling me about this EV stock.
Honestly, I never got into this crazy in the beginning.  
But now with all of the traders speculating on which direction NIO will be heading lately, I think I might want to dip my toe into the water a little bit.
So, what I see happening here is starting to catch my attention.
NIO has not fallen to a level of support since September, when it had fully charged Fractal Energy, managed to run 225% higher!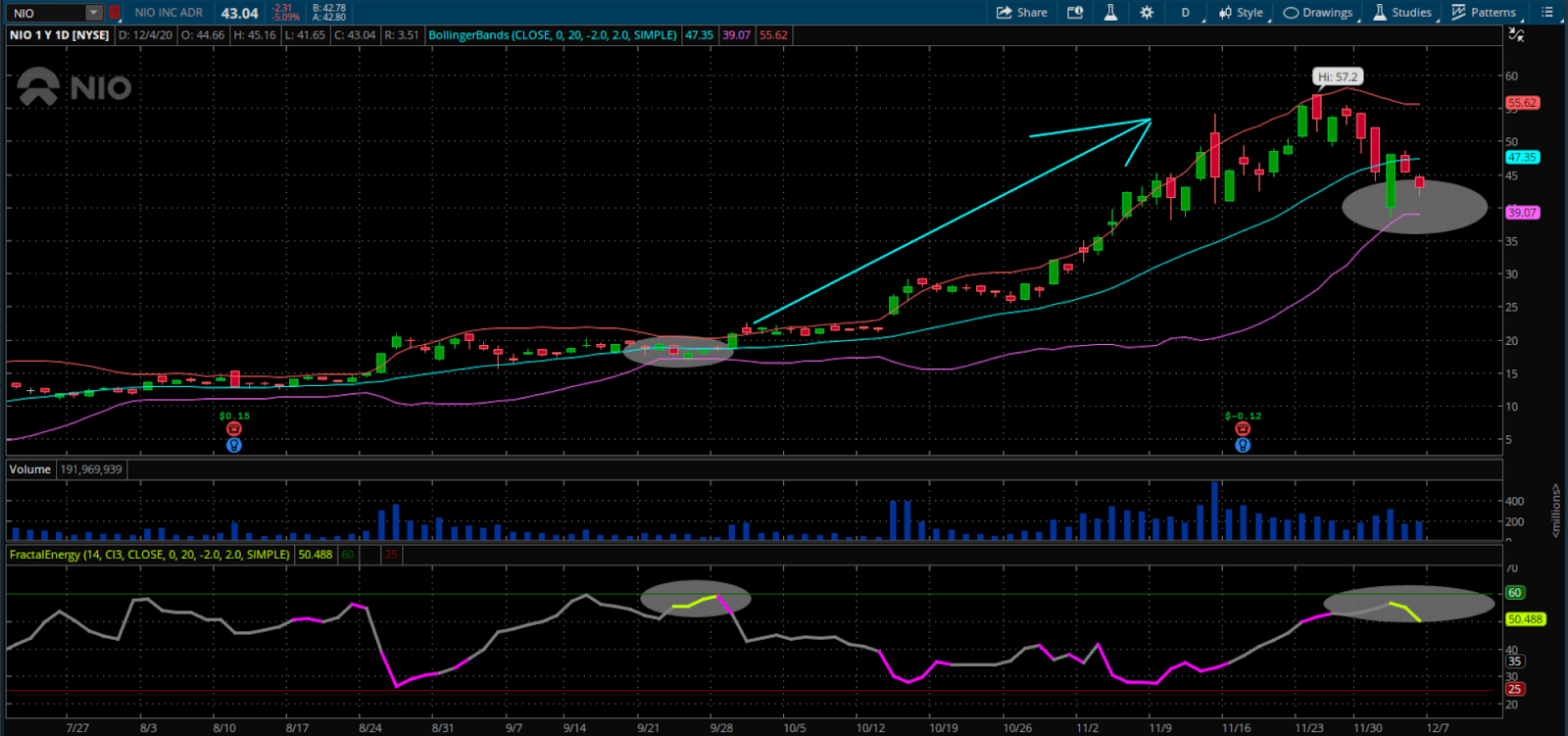 Now, I don't have any magic 8-ball and I can't predict the market…  But I do like to take a good trade when I know the Fractal Energy and Bollinger Bands are showing me something worth taking.
And that's exactly what is happening in NIO right now… But it's not quite down to the lower Bollinger Bands just yet, so I will be keeping this on my radar for now.
Then once I see the perfect setup, I'll be trading one of my favorite strategies – a credit spread in order to take advantage of the suckers who are buying expensive options or stock.
LI AUTO INC ADR (LI)
In this same sector, LI is a stock that recently IPO'd, and is back on my radar after it's run higher in October.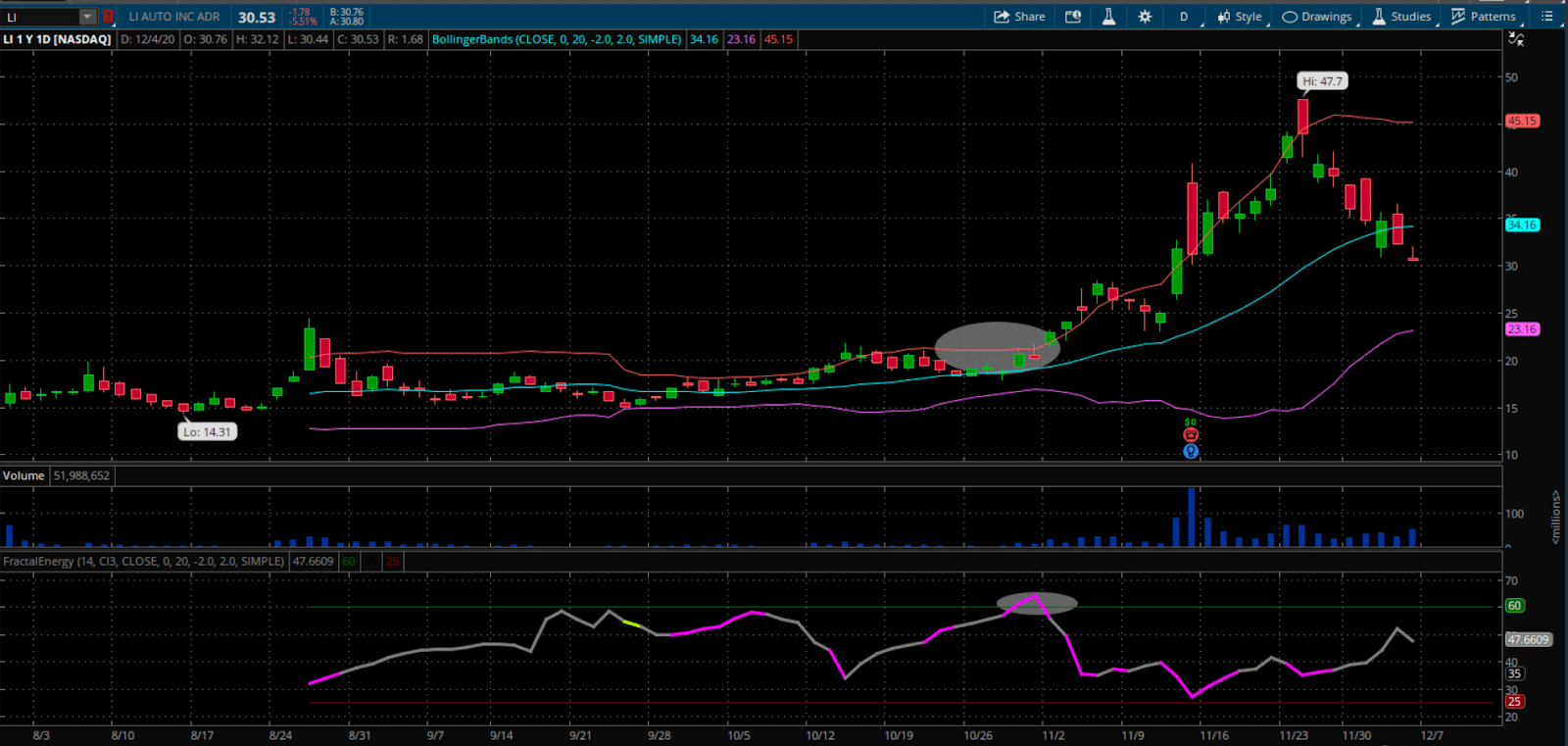 Take a look at the highlighted areas of the chart.  
LI was getting ready to break above prior highs as it was trading against the center momentum moving average of the Bollinger Bands…
And the Fractal Energy was fully charged for the first time in the stock's trading history.
Unfortunately, hindsight is 20/20 and now it looks like a trade I should have been involved in but I never took the trade.
But that's ok!  
Just because I missed it one time, doesn't mean I'll miss it next time.
So instead of chasing the stock higher now, I will just wait for my next opportunity to attack and trade it higher in the next leg.
WORKHORSE GROUP INC COM (WKHS)
Another stock that is in the same sector as the other two which got a lot of attention lately is Workhorse, WKHS.
And for good reason.
WKHS is another stock that joined the 1500% gains club this year.
But, with a stock moving like that, I definitely think it's best to trade options instead of the stock itself.
And I'm looking for a specific pattern that I can take advantage of.
This pattern is a support or momentum pattern combined with a fully charged Fractal Energy (FE)
Just take a look at how WKHS reacted at 3 of the most recent fully charged Fractal Energy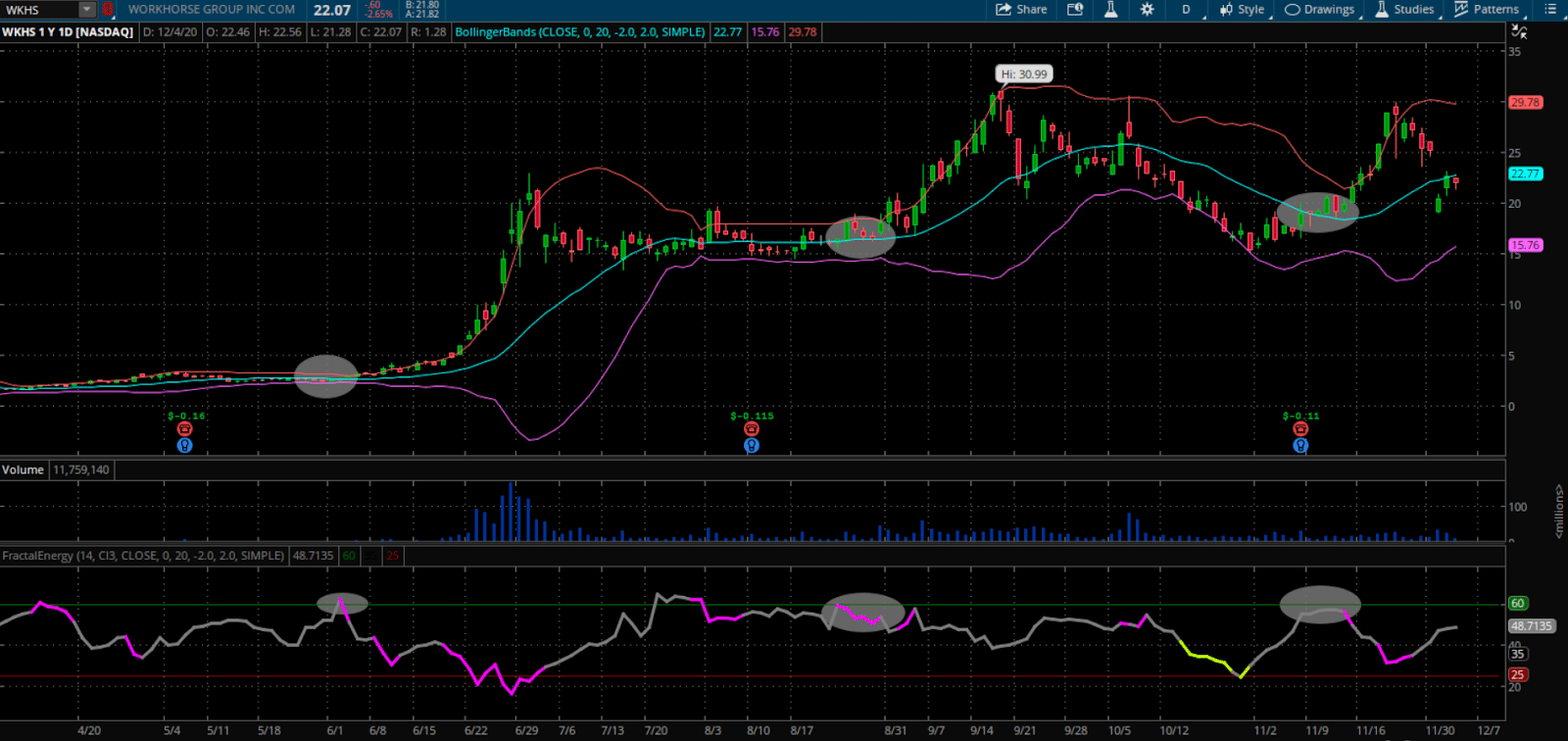 Now, right now the stock doesn't seem to be at either a major support level or setting up a momentum trade.
But what caught my attention was the build up of the Fractal Energy over the last few weeks.
And it's not fully charged just yet, but what I would like to see is WKHS start to trade down to its lower Bollinger Bands while the Fractal Energy sustains a fully charged ( value > 60 ) reading during that time.
Then once that occurs, I'll be watching the price action to decide if I want to trade credit spreads on this stock.
You see, right now I don't plan on taking any of these 3 trades at the moment… but this could change 
But, for now, I'll sit and wait as I stalk these stocks for a trade.
And my Energy Trader subscribers will have exclusive access to when I plan on entering these trades.  
Now, this is just one pattern for finding trades that I have in my trading arsenal. 
Plus, once I find my trade, there are many different credit strategies that I have in my toolbox to choose from as well.
And in my opinion, credit strategies are a great way to put the odds of winning in your favor and boost your returns over simply buying stocks.
So with that said, right now, price action is what's working.
And if you can identify them, I believe it's possible to land more consistent returns
Plus, price action can help you plan your trades and get your thumb on the pulse of a stock before putting your capital to risk.
Now… make sure you sign up for Energy Trader here and let me show you how you can use Fractal Energy combined with Credit Spreads to put the odds of winning in your favor, and why it can help you become a better trader.
Click here to sign up for Energy Trader now
*Results presented are not typical and may vary from person to person. Please see our full disclaimer here: ragingbull.com/disclaimer